Greenbacks Reward Program
The Healthy Tree "Greenbacks Rewards" Program
Helping to GROW your bottom line!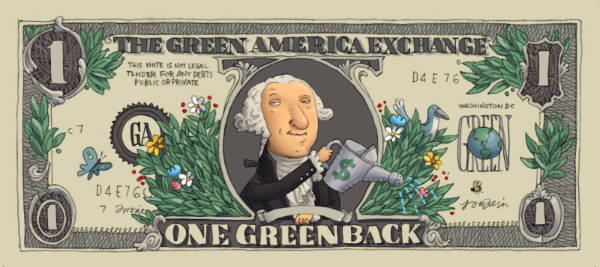 Nothing could be easier to understand and use than our "Greenbacks Rewards" program, because every time you make a purchase at Healthy Tree, you earn "Greenbacks" (Up to 10% on some products). Then you spend (redeem) your "Greenbacks" at the Healthy Tree Store (at checkout) for the products you want and use everyday in your business.
Program Guidelines:
To Begin Earning "Greenbacks":
    You must register and log-in to Earn or Spend "Greenbacks" at the Healthy Tree Plant Health Care Store. It's so easy, but you MUST REGISTER your e-mail and pick a password. That's it - then start Earning and Saving! Every time you checkout, you'll see your "Greenbacks" total. Use them at checkout or save them up for a later time. They're your "Greenbacks" and you can spend or redeem them whenever and however you want.
    The More you spend the more "Greenbacks" you'll earn:
    Our Sapling Tier is our base rewards earnings tier and applies to the first $750 spent at the Healthy Tree Store Plant Health Care Store. The Sapling Tier earns 2% on ALL purchases (Except for Bonus and Promotional Items, which can earn up to 10%). You'll never earn less than 2% with our "Greenbacks" reward program. While 2% is the maximum for most rewards programs, it's only a starting point for our loyal customers.
    Our Shade Tree Tier starts on all purchases after you've spent $750.00 and you'll earn 3% in "Greenbacks" on all purchases up to $3,500
    Our Oakleaf Tier starts on all purchases after you've spent $3,500 and you'll earn 4% in Greenbacks on all purchases
Other Ways to Earn "Greenbacks":
   Purchases aren't the only way to earn "Greenbacks"  which you can redeem at the Healthy Tree Store for merchandise or shipping. Here's just a few ways to earn additional "Greenbacks".
Sign up for the Healthy Tree "Greenback" Rewards Program. That's right. We'll credit your greenback account 250 "Bonus Greenbacks" just for signing up for the Greenbacks Reward Program (That's $10 to use at our store for the products you use every day!)
When you share certain product page links and other Healthy Tree information with your business associates and customers on Facebook and Twitter, you'll earn the designated number of "Greenbacks" just for passing it along. Sharing has never been so profitable.  
Earn "Greenbacks" of up to !0% on clearance and promotional items.
Earn 250 Bonus "Greenbacks" on your account anniversary date.